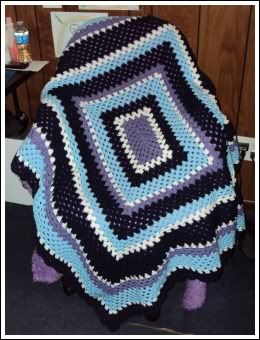 Kaitlyn, my oldest, turned 12 this year. Her favorite color for the longest time has been blue, blue, and blue haha. My favorite color is purple, so all 3 of my daughters have said they like purple to go with their favorite color, and I think adding a little bit of myself in with their colors gives them a little bit of myself to cuddle up with when they use their afghans.
Im now working on Jenna's afghan. Her favorite color changes a few times a year, which is expected. She's the youngest of the 3 and she likes to be like her older sisters. Over the summer she said her favorite colors were pink and yellow, and since then they have changed to blue and green with purple as her 3rd choice. Wanting to keep true to Kaitlyn and her blue and Alissa with her green, I am making Jenna's afghan mostly purple with a turquoise accent.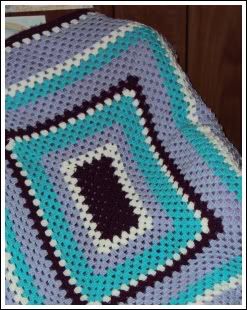 I cant wait to have these all finished, wrapped, and ready to send to the girls. I wish I could be there when they open these =)
Until next time, keep crafting!