I finally made myself a crochet hook case. I had one a long time ago that I had bought on etsy with ties to hold the roll together. I never would tie that thing, kind of annoying having to tie it each time I wanted to close it. Anyhow, lately my crochet hooks have been sort of hanging around on my desk, my nightstand, and my dresser when not hooked into a current project. I figured it was time to make them a new home.
Using fabric from my stash (it may look familiar, check out Kaitlyns tote bag a few posts below =D ), I drew out my design on a piece of paper, figured out my measurements, cut my fabric, sewed it together, found a nice big purple button and made my hook case!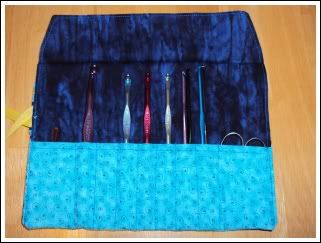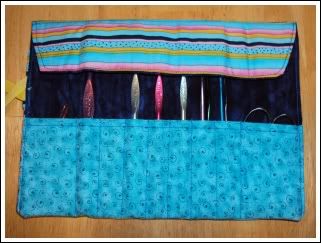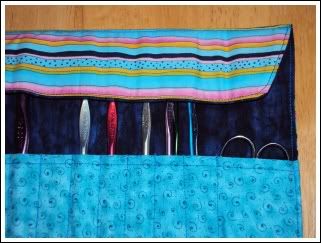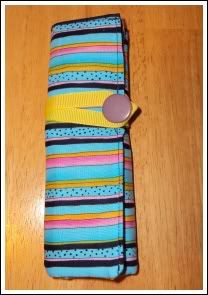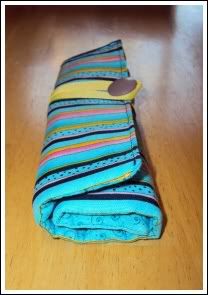 The case is padded with cotton batting, and the pockets are lined with interfacing. I used grosgrain ribbon wrapped around the roll to hold closed with a button. I top stitched around the side and top edges, and then top stitched the flap down to make it easier to keep the flap in place which makes it easier to roll the case closed.
All in all it turned out really well and is the perfect size for my crochet hooks, scissors, and yarn needles. This case holds my D thru K and N hooks, I cant seem to find my K hook, which is what the empty pocket is for. Looks like Im going shopping! I might have to make a few and sell them on etsy =)
Many cases I found on etsy had pockets for knitting needles as well as hooks and were just too big for the simple crochet hook case that I wanted. I also noticed a lot of the cases showed the pocket sewing lines on the outside of the case which I dont care much for the look of either. Best to just make one of my own since I know exactly what I like!
Until next time, keep crafting!