Jenna's afghan is finished! All that's left to do on these is weave in all the ends and then wrap them for Christmas!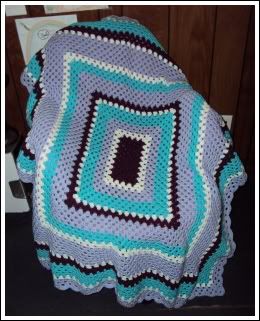 She informed me the other day that her favorite color has changed, again. I was like oh no >.< and when I asked her what her new favorite color is, she said turquoise! I said "ahh, that's a pretty color!" but I was really thinking "phew!!". So, she should be happy with her turquoise and purple afghan I should think!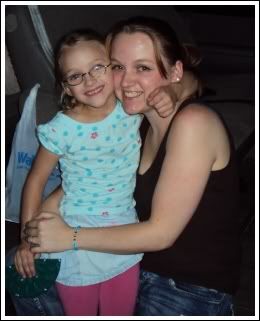 I've been doing some small projects on the side. We'll be heading to New Jersey in a couple of weeks for Thanksgiving, will be visiting some friends out there, and figured I should make myself some gloves and maybe a scarf - save money so I can spend it on things I find shopping in NYC >:D My husband has been mentioning that he wants me to crochet him a skull cap, so finally we went and got him some yarn. He kept looking at the bulky fuzzy yarns, and we finally settled on some
Bernat Denim Style
yarn. Here he is right before heading to work, I'll have to get a better picture of just the cap itself.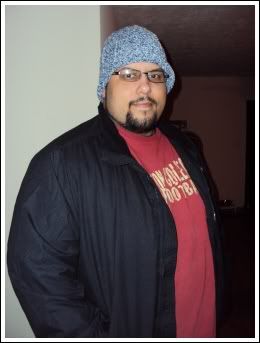 I did a basic double crochet style cap with a single crochet edging, and added a few front post dc's around it to give it a bit of style.
I will get a picture of the gloves Im doing as well for myself, and thought I would maybe knit myself a scarf instead of crocheting one.
Until next time!