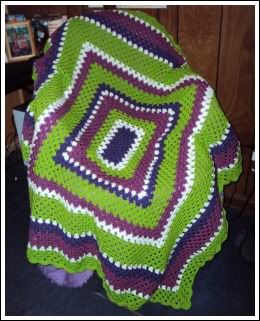 Since I dont get to see my girls often throughout the school year, I thought about giving them something handmade from mom for Christmas this year. I needed an afghan pattern that would be quick and easy to make so I could get 3 done in 3 months. The granny square afghan was the perfect choice but I wanted more of a rectangle size than a square. I remembered an afghan I made for my stepson back in 2003? with left over yarn in a stripe pattern, creating more of a granny rectangle afghan, and knew it was an easy perfect choice for the girls this year.
I was going to pick up some Red Heart Super Saver from Hobby Lobby, since it washes well and is nice and soft after washing, when my husband saw a yarn called '
I love this yarn
' which is so much softer to the touch, and I figured the yarn would be softer against my finger while crocheting. The price was only $1 more per skein than Red Heart Super Saver so I figured I would give it a try, and Im glad I did! I enjoyed the color choices for this yarn since I felt there was a bit more color shade variety compared to the other yarn choice.
These afghans took me about 3 weeks each to finish, although I do still need to weave in all the ends. I've completed 2 so far and am working on finishing up Jenna's afghan. I will post each completed 'ghan in separate blog posts as I think they each deserve their own spotlight haha.
My daughter Alissa turned 10 this last summer. She is a very bright bubbly girl, full of energy all of the time and likes to make people laugh. Her favorite color, lime green, goes along with her bright personality. So for her afghan I made the main color lime green (yarn color: limelight) with white, hyacinth, and grape color accents.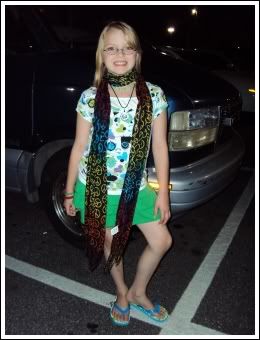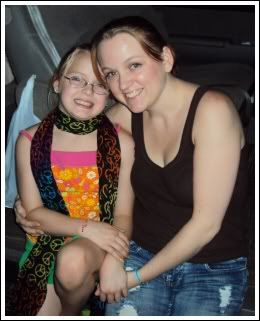 The girls dont know what Im sending them for christmas this year, they just know that mommy is making them something but cant tell them what it is. Along with these afghans, I will also be making them each a crochet doll with removable clothing. I will post more info on the dolls as I begin making them!
Until next time!